I'm sure many of you especially here in Indonesia who had an android phone must have Alkitab application (Indonesian bible). I highly recommend this application and you can get it for free from the market. The application is very nice and helpful, especially with the daily devotion feature for those of you who travelling a lot and don't want to miss the morning prayer and devotion.
A few days ago I was looking for "The Message" bible version for my needs and found some other PDB (palm database type) bible versions from some Christian site. I convert them all to YES extension, which can be imported easily into Alkitab application via the Version Importer menu.
Here I share  the versions you can download for free and use :
Get the Bible version you want and copy them to your sdcard. Unmount the sdcard, and then open Alkitab application, go to Version Chooser, and choose Other Version then open pdb/yes files. Point the file manager to yes file location on your sdcard and pick the yes file.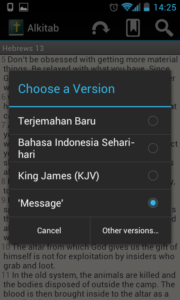 God Bless You All.