MTP is probably the most annoying thing I encounter lately on many android devices, including my galaxy nexus. Media Transfer Protocol (commonly referred to as MTP) is part of the "Winblows Media" framework and thus closely related to Winblows Media Player. I have no idea why in the world of opensource like this android, have to implement this shit. On some device, this mtp can be disabled on the settings menu, but there are also many devices that doesn't have this choice, even if it is rooted and running custom rom. I'm still using cm9 4.0.4 (will do bigxie JB in near time) with franco kernel, the settings are there but in my case it's always disabled.
Got through many mtpfs mounter, and so far still not satisfy enough with the complexity and the speed transfer. The only mtpfs mounter and media manager that have a compromise between simplicity and speed transfer I had tried, is gmtp. … and … no, gmtp not an abbreviation of the Google Media Transfer Protocol, more easier to just follow microshit on this. not reinventing the wheel they said. 😀 LOL. You may install gmtp (gnome mtp) with a preferred package manager on your own distro. ubuntu, mint, fedora, mageia, klixs, all have this in their repo. I have no idea, why many post on this gmtp installing topics always ranting about libmtp version. I'm using gmtp 1.3.1-2 with libmtp9 1.1.3-1ubuntu0.1, directly installed from precise repo without single hassles.
The first connecting progress to the phone is too damn slow, it took about 30 secs or more on mine, but after connected, it works fine. After that, I can drag and drop my media files (musics and/or videos) within file manager (dolphin) and this gmtp with pretty fast transfer speed.
EDIT 08jan2013 :
I dump gmtp for sure and use gomtpfs for better solution, you may read here for details.
Media Tranfer Protocol (MTP)
I tried, but cannot love gnome, so … for you that using KDE like me, you may also use Amarok to accessing your MTP devices. Choose MTP at the phone and Amarok should see it automatically. If not, open Amarok first, then Connect to the device with gmtp, back to Amarok, and your device should listed under Local Music Sources.
I haven't tried with banshee and rhythmbox …yet.
Picture Transfer Protocol (PTP)
Choose Camera (PTP) on the device and open Digikam, your pictures will shown up and can be imported to your computer easily.
For gnome you may use shotwell to manage the PTP device, which also works good on mine.
Although this MTP is really annoying, but there is an upside as well :
Because sdcard now internally mounted by fuse on phone side over mtp protocol, thus the os still can access without unmounting it first. In other words, the phone os still can access the sdcard at the same time the computer access it over mtp.
This can be good for some non technical users that never heard a word of Unmounting / safely Removed first. The actual file system is implemented by the device, not by the computer's operating system.
However … I still like simple, plain, flat usb storage media protocol better. 🙁 I can manage everything and do what ever I want from one single apps … dolphin.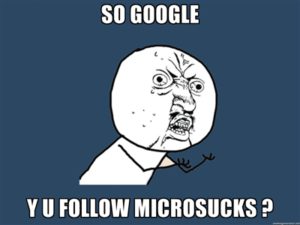 Stop telling me what I should do and just give me the tools to do what I want to do.