A friend of mine sent me this device last weekend, asking for help to create the twrp recovery for this acer liquid E2 Duo. Rather than only twrp, I also build the cwm version and share here. For you who don't know what is twrp or cwm is, here is a brief explanation as usual :
There are two famous recovery application for android, which is TWRP (Team Win Recovery Project) and CWM (Clockworkmod Recovery). They both build by amazing developers and they both do pretty much the same thing, which are : allows you to perform several advanced recovery, restoration, installation and maintenance operations on your Android device that aren't possible with the stock recovery, and is one of the most common ways used to gain root access, back up device data, install a custom ROMs, kernels, themes, mods and more. Which one is better? I can say both program are very good, but personally, I like TWRP better. CWM seems to be more popular, though. The main thing I like about TWRP is the USB OTG functions and smaller backup footprint but besides that, CWM works just as well.
Here is I build the two flavour of them, whichever one you prefer, you can have it :
CWM :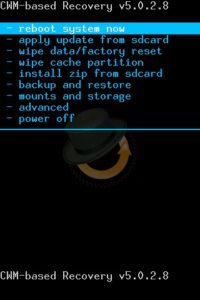 Download : recovery-cwm-acer-liquid-e2.img
HOW TO INSTALL :
To install this CWM custom recovery, you need SPFlashTool program which only available on winblows os platform so I cannot support it. You may refer to this tutorial : MT65xx Flashing Tutorial it is very well explained by Bruno Martin and try to find Flashing only part of the ROM part on the article to flash only the recovery image part.
Please be really careful using SPFlashTool, especially when flashing ROM not for your device, since it may bricked your device forever.
if you need the scatter file to flash using spflashtool, here is i host them :
Download : MT6589_acer_liquid_e2_scatter_emmc-orig.txt
TWRP :
A little background during creating this twrp recovery :
Like I always said to my fellow friends, 3 thing certain in life, death, tax, and software bloat 🙂  … and please don't mention samsung, it worse 🙂 Android kernel is getting bigger and bigger and on this device, the kernel take space almost 5mb (4.7mb to be precise), the twrp binary itself takes as much as around 1.3mb, gives a total about 6.3mb of recovery image. Even using lzma compression this size will not go under 6mb which almost any standard MTK platform recovery partition used.
This means, the twrp version of this device needs a bigger partition than standard recovery partition size default (usually only 6Mb ~ 6,291,456) and on this case I choose to compromising the sec_ro partition and got 7mb healthy space for the recovery part.
Problem solved? not yet! To repartition the device we need the whole stock rom because spflashtool will refuse to flash the only twrp part if they found out the partition on the device is different than the scatter input file.
I dump the whole partition from the device to get all the partition image and here we go my complete custom rom in spflashtool format :
Download : Custom rom 4.2.1 for Acer Liquid E2 DUO
MD5 : ccb0aa9e11474d8e637fe4c3b6855e97
Once again, I repeat, On this device, you cannot flash only the twrp recovery without flashing the whole rom!!
To make everything in details and thoroughly, I create another article that explain the custom rom 4.2.1 that I was made, you may read it  here : Custom rom 4.2.1 for Acer Liquid E2 DUO
By flashing my custom rom above, you will get the custom rom plus twrp recovery.
If you're willing to rolled up your sleeve and get dirty, here is the twrp image only, do it on your own risk :
Download : recovery-twrp-acer-liquid-e2.img
MD5 : 5a01bb751f63ea5a57107a7068d116a8
Have fun flashing ROM and mods on your device.