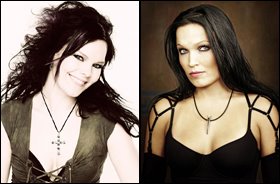 As you may already know somewhere around May 2007, Anette Olzon was announced as the new singer for Nightwish replacing Tarja Turunen as band vocalist.
The band met Anette on her first visit to Finland earlier this year, and after going through over 2,000 applications, knew they had found a match. In an official statement Nightwish said,
"She's already so much more than we were ever expecting to get. Long live new Nightwish! The new album will be a monster!!!"
Olzon stems from a musical upbringing, she has been performing and singing since childhood. She has also studied music and performing at Göteborg Balettakademie, Copenhagen Conservatory and Malmö Music University.
Nightwish was unique with Tarja, but now it's reborn with Anette. And they're just as good, if though in a much different way. Tarja has more accent on her voice, but Anette also had a match color voice somehow with the lyrics on "Dark Passion Play". Eva, The Islander was perfect in my ears with Anette voice. Tuomas was master in writing lyrics.
With respect to all the fans and also to Tarja Turunen … guys you can't compare Anette voice with Tarja. She is completely different even the guys knew that they will have to find some one completely different from Tarja's abilitites. If you listen to the samples you will find out that nightwish is completely different than before and to metal heads the next album will be a fucking neck braking album. We should give Anette her chance and not to but her in a comparison, besides she is very hot … the song master passion greed is awesome …
I think nightwish is the best band I ever like. Bravo Nightwish !