Here is my Orion 5 Band Parametric Equalizer after heavy mod. 😀
All caps were optimized the best on their category range, electrolytic for low range, MKM for midrange, and very low ESR caps for high range, also each caps were pre-selected by measuring the closest nearest value between left and right channel using LCR Meter, so I have to buy a lot .. I mean lots of caps … just to find the match value within range and the capacitance value. To be honest this is hard 😀 The size is also the major problem, cause there are many type also from passive crossover type of capacitor that had my attention because they sound perfectly on the final results, but … for the sake of neat and nifty final, I omit the use of large size capacitors.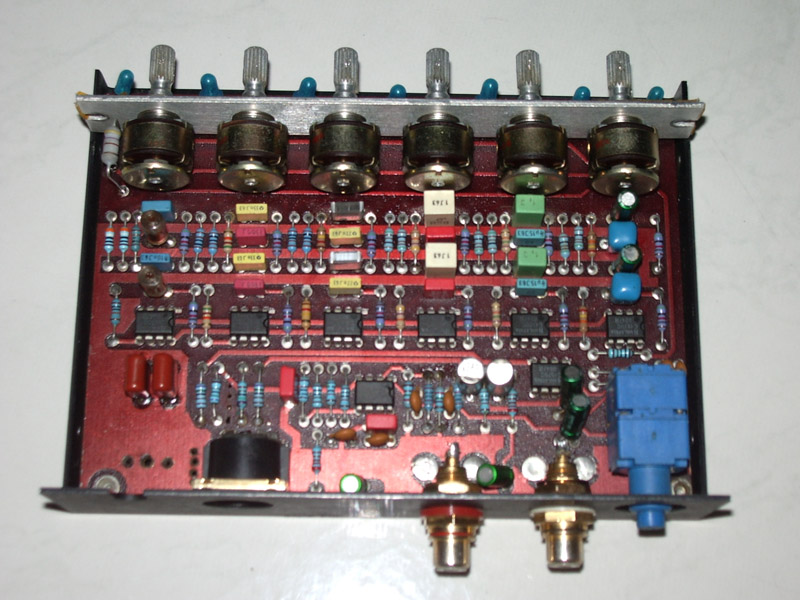 The blue trimmer potentiometer at the right bottom is a high precision potentiometer I grab from my broken Precission Amplifier because they perform very well under test with my LCR Meter especially the linearity between channel. It has a logarithmic range (A50K) and acting as a level input for the pre-amp stage. I have to re-adjust the opamp gain value, because the original was using 20K type.
The op-amp also upgraded from 4558 to 4570 and all metal film resistor use as a standard. The input connector RCA goldplate at the back front was stolen from my Milbert Vacum Tube Amp that were also modified heavily.
The circuit itself does not have a power supply module, and it needs a symmetrical supply +-15V that were derail from main Orion Power Amp block via a 5pin DIN audio interconnect besides the RCA plug. I have to pull out the +-15V supply from my Precission Amp ProMOS for this Equalizer.
The result is quite astonishing for my ears, and now I'm freely corrected the dull range for some cheap recorded CD for flatter frequency response, although this correction was no less or more than 4 db equalization, this is more than enough to give some smooth tweak for various type of my music during driving. 😀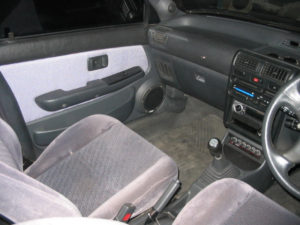 Here are the equalizer beneath my CDPlayer, and as you may see I'm using Dynaudio 6 MkII Midrange + 2.5″ Dynaudio Tweeter as my main speakers, The Power Amp were 2 Channel Precission ProMOS and a single Orion Black Metal powering 10inch JL Audio SW1 subs.