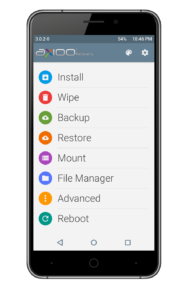 This is the custom recovery TWRP 3.0.2.0 marshmallow release for Axioo Venge X. You will need this 3.0.2.0 revision not only for SELinux policy compatibility with marshmallow release, but also for systemless supersu that depends on this.
Download : recovery-twrp-venge_x-6.0-3.0.2.0.img
md5 : 5b48947b43e72d06ef63a9090a39b195
HOW TO INSTALL :
To install this custom recovery, you need SPFlashTool program which only available on winblows os platform so … really sorry, I cannot support it because I never use and don't have winblows. You may refer to this tutorial : MT65xx Flashing Tutorial it is very well explained by Bruno Martin.
Please be really careful using SPFlashTool, especially when flashing ROM not for your device, since it may bricked your device forever.
Scatter file you might need : Venge_X_6.0_MT6753_Android_scatter.txt.rar
Of course you also can flash this custom recovery using linux or specific apk such as mobileuncle tool or recovery tool, but that's another story.
HOW TO REBOOT INTO CUSTOM RECOVERY :
To enter the custom recovery mode is pretty easy on this model, just completely power off the device until you feel the device vibrate, indicating it was totally shutdown. Then, hold down Volume Up button then press Power button, hold them both until you see 3 menu list appear, Recovery, Fastboot and Normal.
Scroll or choose between item using Vol up button and select them using Vol down button. On this case, choose Recovery and press Vol down button, wait a sec or two …  then you'll be entering recovery mode. There are also many apk on playstore such as Quickboot, RecoveryTool, … etc, that can do reboot into recovery directly from alive system, use any one you like.
HOW TO ROOT :
After installing this custom recovery, you can install root and Superuser manually as usual, I recommend to use latest chainfire SuperSU. If you want to use my custom rom then you not need to flash this root manually, it's already included on my custom rom.
Special NOTE for newbie :
If you came from stockrom and this is your first attempt to flash custom recovery, the sequence is mandatory. Please pay attention that after flash this recovery using spflashtool, you have to immediately enter the twrp recovery, DO NOT let the device boot into android os. Because once you boot the system, the system will replace the twrp with the stock recovery as part of their hacking attempt protection. This is common  on any mediatek platform (if not all), so don't be afraid, this is a well known protection issue. If you're by accident forgot that, is okay, just flash it again and directly enter the twrp recovery after it. Once you enter the twrp, you can install supersu or my customrom and it will have automated script that will disable that protection once and for all.
Happy flashing !